Graham Tractor was established in 1948. Originally located on the courthouse square and later moved into our present location in 1949. Luta Hardin began GTC shortly after WWII. She was a very smart business woman. She and her brothers filled the area with "Red Belly Fords". I met her when I was eight years old on my first trip to GTC with my dad, Ray.
My love of tractors and equipment started by tagging along with my father after work. He went around the local farms repairing whatever was broken. Sometimes it was routine maintenance and sometimes complete transmission overhauls. Ray began in Liberty, NC, as a mechanic in 1955….but Parts were his real passion. In the 60's, he went to work at a dealer ship in Greensboro in their parts and service departments. In 1969, he was offered a job at Graham Tractor Company.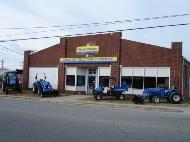 The Hardin's were good people and my father impressed Ms. Luta. My father and mother, Hilda, bought the first half of the business in the mid 70's and became full owners in the early 80's….all while raising two sons and putting them through college.
My brother, Danny, graduated from Applachian State University. From 1985 to 2001, he was the manager and jump started the growth of Graham Tractor. Selling came natural to him. 
I graduated from NC State with an engineering degree and worked as a bridge design engineer in Raleigh for 5 years. In 1988, I came back to what I loved as a kid…….tractors. I started in the accounting office, then became parts & service manager, and in 2001 became the general manager.
Our goal here at Graham Tractor is to give our customers the best parts, sales and service possible. Please let us know how we can help brighten your experience with us. 
Alvin McMasters, Manager
Graham Tractor Company
109 S. Marshall St. Graham NC 27253
Phone: 336-226-2272
Fax: 336-228-7790
Toll Free Phone: 877-336-5741